Loft Conversion Specialist Company in London: Free Up Your Living Space
Do you have empty loft space that you would like to convert? Is your attic gathering dust when it could be put to better use? Has your living space become over-crowded? Do your kids need a dedicated, safe playing area to chill out and play in?
Free up much-needed space for your family to enjoy by converting your loft! 
There are many possibilities and advantages that converting your loft or attic will afford you and your family. Why not explore them with Bischell?
We will take your empty loft space and transform it into a new living area with precise attention to detail. That includes plumbing, electrics, insulation and heating. Whether you need detailed architectural planning, meticulous construction or a project managed design & build, our experienced team of engineers will help.
With immaculate design, fine craftsmanship and key functionality throughout, you'll be amazed at what we can do with your loft's unused space. Ready to discuss your ideas more? Contacting us is the first step.
Bischell will take your empty London loft and transform it into a beautiful living space with meticulous care in every detail.
A team of loft conversion specialists
Why choose Bischell?
You'll have a tightly orchestrated construction team working to make your dream loft conversion happen with speed, efficiency and attention to detail.
Bischell builders and engineers to bring your plans to life with millimetre accuracy
Bischell electricians, plasterers, plumbers, decorators and fitters to capture the vision of your design with exquisite workmanship
The infrastructure to conduct interior transformations through to extensive roof re-structuring
An optional Bischell project manager to take care of everything for you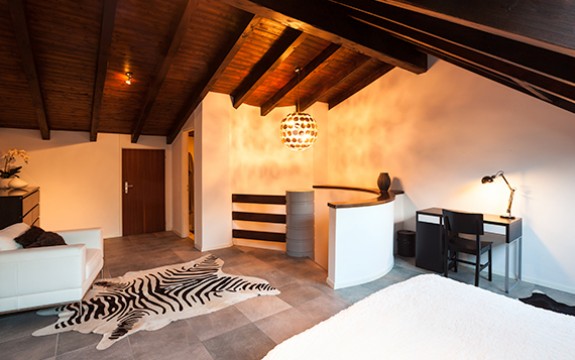 4 guarantees with our Flawless Delivery™ promise:
On-budget – The cost, based on the original brief, is contractually fixed
On-time – Finished on time, but if not, we pay you for every day it goes over
Defect-free – You only sign the project off when everything is perfect
12 month warranty – If there are any problems, we'll fix them for good
You expect first-class support. With Bischell, we'll exceed your expectations
We'll regularly keep you updated, with a direct line of contact for quick answers to any of your questions. As important, you'll be able to view project updates, progress and scheduling via your own online client portal.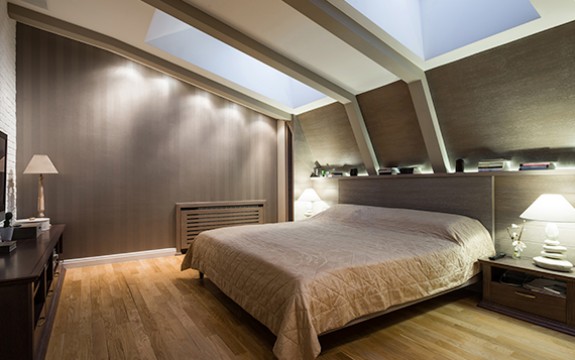 What you can expect in your new loft conversion:
Be prepared to take your home to the next level with a completely new living space crafted perfectly to your tastes.
Built for any need – from new bedrooms or play rooms for kids, to bathrooms and studies – Bischell loft conversions are all about taking your designs and ensuring that they reach their full potential.
With a seamless build project and fine craftsmanship throughout, you'll be able to enjoy a bright, modern and spacious new loft with an immaculate finish.
And our credentials speak volumes.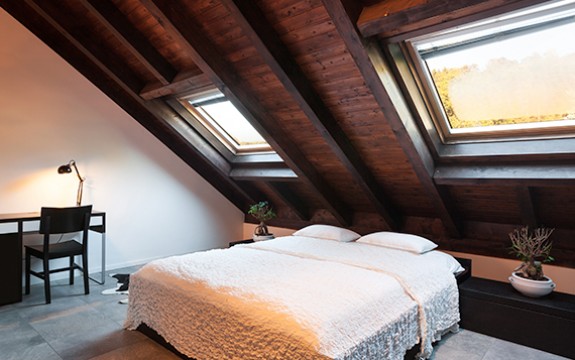 Loft conversion architecture in London which ticks every box
Our architects will focus on creating a design which captures your vision and gives you a stylish new loft to enjoy for years to come which is practical and cost-effective.
We'll capture all of the details you want in your new loft. Every room, layout, fixture, fitting and coat of paint will be selected by you, with Bischell's professional team of architects and interior designers on hand to guide you through with the key elements of beautiful design.
With our experience and expertise, there's virtually no limit to what we can do, whether you need an interior plan or extensive roof re-structuring with the pinnacle of engineering.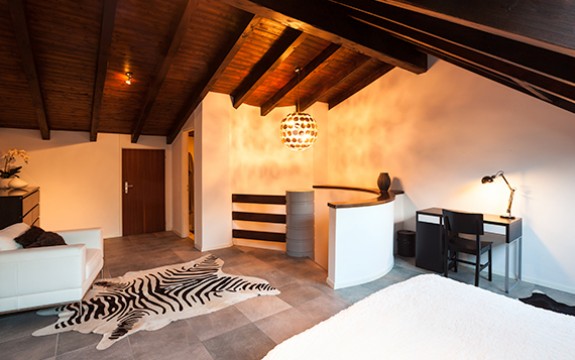 4 guarantees with our Flawless Delivery™ promise:
On-budget – The cost is fixed, and it will never change based on the original brief
On-time – Finished right on time, but if not, we pay you for every day it goes over
Defect-free – You only sign the plans off when everything is perfect
12 month warranty – If there are any problems, we'll fix them for good
Planning permission? Building regulations? Just leave everything to us
We can assess if your loft conversion is allowed under 'permitted development', but if not, we'll liaise with your local council to obtain planning permission for you.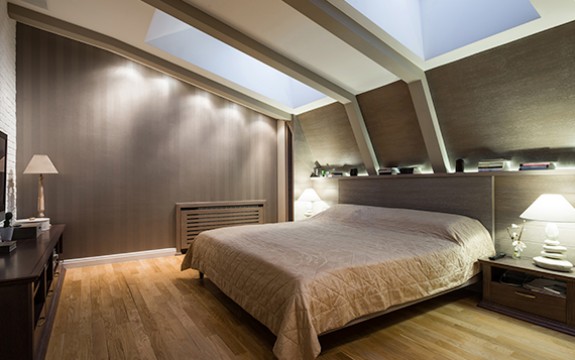 What you can expect from your loft conversion design:
We don't just want to capture all your favourite ideas, themes and colours, but also your lifestyle needs too.
Bischell loft conversions are about designing your loft or attic around you and your family, so it ticks every box when it comes to aesthetics and practicality.
From beginning to end of your loft conversion, you can expect our trademark Flawless Delivery.
We'll work closely with you to expand your vision into a beautiful loft conversion, and provide all of the plans to achieve a millimetre-perfect result.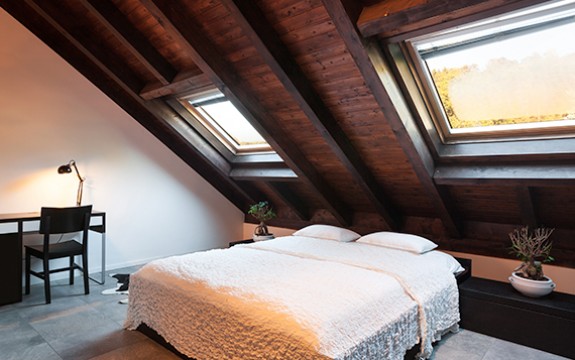 The result?
A beautiful loft space which enhances your home and lifestyle.
Click here or call 020 8964 1814 for a free, no-obligation consultation where we'll show you what we can do for your loft conversion in London.
Call or email us today
If you have a project you'd like to discuss, please get in touch. There's no obligation. Just give us a call or if you'd rather email, simply complete the form.
020 8964 1814
Why Bischell?
An optional industry-leading lifetime guarantee
We'll give you a fixed price which won't budge
A guaranteed completion date or we pay you
We won't stop until your project is 100% defect free
360° Support® for peace of mind every step of the way
A loft conversion converts an attic or loft into a living space. Usually, a completely empty loft consisting of only structural beams, loft insulation and the roof of the home can be transformed into a space which is of the same interior design quality as the rest of the home, including a new ceiling and floor plus walls, windows, doors, furniture, lighting, heating and other amenities based on the intended use of the loft space.
There are a number of very strong benefits which have made loft conversions so popular throughout the UK:
Add more rooms and living space without moving
Usually, the available floor area of a loft consists of the entire surface area of the property, frequently making it one of the largest areas of available space in your home. The right sort of loft conversion can provide a considerable amount of additional living space without the stress and cost of moving to a larger property. Plus, if a loft is large enough, partitioning walls can be used to create 2 or more extra rooms.
Add extra value to the home
Loft conversions can provide a powerful return on investment by increasing the value of your property. Many sources claim that the value of a property can be increased by 10% to 20%, with many homeowners doubling their original investment.
Add different types of living space
Turning a room into a different type of accommodation normally used to involve sacrificing a bedroom. However, by adding brand new rooms to the home via a loft conversion, you could enjoy different types of living space which offer new benefits and amenities. For example, alongside more common uses (such as bedrooms), many homeowners turn their lofts into an office, gym or entertainment room.
Some of the most popular uses for loft conversions include:
Bedrooms – Add an extra bedroom or even an extra two or three bedrooms with the use of partitioning walls if the attic is large enough. Bedrooms with en-suite amenities can also be created.
Bathrooms – You can add an extra bathroom to the home or even create an en-suite bathroom for a bedroom on the floor below by adding a stairwell.
Office space – If you operate a business, you could turn your loft into an office to separate work and personal living spaces and also create extra working space to improve productivity.
Gym – Turn your loft into a personal gym with plenty of space for workout areas, machines and weights.
Entertainment room – Create an entertainment room for the family with a home cinema, music centre, gaming area, pool table, home bar and more.
Storage – Loft conversions don't have to be used to create living spaces. They can be used as basic storage spaces as well. A reinforced floor and adequate access means that you can step inside your loft to store items and free up more space within the rest of your home.
The extensive space available within a loft conversion often means that you don't necessarily have to decide on only a single use for your loft. The use of partitioning walls can create multiple rooms within your loft for different purposes. Some common combinations include:
Multiple bedrooms (1 to 4 or more)
Bedrooms with en-suite bathrooms
A bedroom and gym
A gym and entertainment room
A bedroom and storage area
A bedroom and entertainment area
Plus much more
There are many different types of loft conversion. Some of the most common include:
Conversion with roof windows
This is normal loft conversion where windows are inserted into the existing roof of the home in-line with the roof slope. This allows a lot of natural light into the attic space without the extensive task of reshaping or restructuring the roof itself.
Dormer conversion
In a dormer conversion, an extension is built out of the roof with a new ceiling and wall protruding out of one side of the sloped roof. Windows are then usually placed on the vertical wall of the extension. Alongside the benefit of being able to create normal vertical windows, dormer conversions also allow more headspace within the loft and can allow a larger overall conversion which isn't limited by headroom due to the slope of the roof. Another added benefit is that a dormer conversion is easily visible from outside, therefore adding to the aesthetic quality both inside and outside of the home.
Mansard conversion
In a mansard conversion, the degree of the roof slope is considerably reduced to create four slightly sloped walls. A much steeper sloped roof is then placed on top of this. The result is that the loft space is turned into an entirely new floor of living space which isn't limited by the extensive slope of a normal roof.
Hip to gable conversion
In a hip roof, all the sides of the roof slope down to the walls of the property, creating a 'pyramid' effect. A gable is a triangular portion of vertical wall which is between the two edges of a sloped roof. For example, if a roof was shaped like a triangular prism, then the gable would be the triangular 'end' of the prism.
As the name implies, a hip to gable conversion takes one side of a sloped roof and extends it to the edge of the wall of the property – creating a gable. This reduces the problem of a lack of headroom caused by the sloped roof, therefore allowing more usable living space. This can be done on one side of the roof or both sides, creating a double hip to gable loft conversion.
Bischell have years of experience converting and extending houses, including loft conversions. Read all about our recent builds around London and discover why we're a top-rated building contractor for loft extensions.
The process of a loft conversion can vary depending on the building company you use. However, the most common process is as follows:
1). How to use the space
How you use your loft conversion can heavily dictate how the project is carried out. The design and build company can not only install partitioning walls to break the loft up into rooms of your choice, but also install decorative features, fittings and amenities. Alongside deciding the use of the loft, you can also decide on the type of loft conversion you would like, such as a normal conversion with roof windows, a dormer conversion, mansard conversion or others. Advice can be sought on this from your design and build company if required.
2). Planning
Any design and build company should listen to you carefully to make sure that your dream loft conversion is built exactly how you want it. Attention to detail is important, not just with the layout of the loft conversion but also the fixtures, fittings, decoration and other aesthetic touches. Some features to consider are:
The loft conversion layout
Using partitioning walls to add rooms
Using 'dead space' in the crevasse of the roof as storage space
Light fittings
Electricity fittings
Heating
Windows
Painting and decorating
Flooring
Tiling
Staircases/access
3). Feasibility
Cost estimates usually involve feasibility studies, where a company will check your loft to make sure there is enough headroom and area size for the conversion. Again, attention to detail is vital here, as there are a number of additional concerns depending on how you would like the loft to be used. For example, if it requires a hot water supply and/or heated radiators, does your existing water system have enough pressure to push hot water up an extra floor? Will your choice of furniture fit and allow enough room? Where will the electrical sockets and windows go? Considering all of these points allows for a smoother build project.
4). House value vs practicality
Many homeowners focus on how they would like to use the loft conversion and base their ideas around that. However, if you're also interested in using the conversion to increase the value of your home, then you have to consider how potential homebuyers will see it. You should obviously build the loft conversion around your needs if you plan on living there for many years to come, but it's also worth making sure some of the boxes are ticked when it comes to features which will really interest buyers when you decide to eventually sell your property. Bischell and any other good design and build companies can advise you on this.
5). Setup
Once the project is underway, there are a few things which need to be done before the actual conversion can begin. The building company can deal with any planning permission if required and also secure scaffolding, skips and anything else which is needed to begin. As most joists in a loft floor are not strong enough to support people and equipment, they may need to be temporarily fortified as well.
6). The loft conversion commences
The main structural work will be conducted first to fit in the primary floor, ceiling, walls and any partitioning walls. If more extensive structural work is required (such as for hip-to-gable or dormer conversions) then this building work will usually be conducted first. The installation of windows also happens at a relatively early stage. After this, creating access to the rest of the house occurs, and for a highly usable and accessible living space, this would usually involve the installation of a stairwell. Once that's done, more interior work begins. Plasterers will finish the walls and ceiling, electricians will install any sockets and lighting, plumbers will install any water supplies and floor installers will finish off the floor of your choice. After this, it's the last finishing touches of the interior design – including painting, fixtures, fittings (such as shelves, units and storage space) and any furnishing required.
After a thorough tidy up, you will then be left to enjoy your brand new loft conversion!
Here at Bischell, we can provide a feasibility study of your loft to discover if it is possible to convert the loft into a habitable space. The main issue is headroom due to the slope of the roof. Whilst the actual surface area of the attic may be large, a sloped roof means that only a certain portion of the loft area has adequate headroom for people to stand up and walk around comfortably. It is usually likely that at least some space is available, but this factor can dictate the overall size of the finished loft living space.
In some situations, a roof may simply be too steep to provide any available headroom in the loft at all. In this situation, the roof can be re-built with a steeper slope to allow for more room.
Other points to look at include any repairs which may need to be done to the roof. Whilst minor leaks or damp patches may not be noticed in the lower floors of your home, they are highly likely to be noticed in a room within the loft itself. If any repairs do have to be conducted, then they can usually be done alongside the loft conversion itself.
There are two main types of regulation to be aware of: building control regulations and planning permission.
Building regulations
Building regulations are a set of rules which govern how a loft conversion is created. The primary purpose of this is to ensure adequate levels of safety and build quality. Here at Bischell, our loft conversion specialists ensure that all loft conversions comply with the latest formal UK building regulations, some of which include:
Structural regulations in regards to joists, beams and load support
Fire regulations to ensure adequate fire resistance, flame ratings and means of escape during a fire
Sound regulation to ensure adequate sound proofing – especially when there is potential disruption to neighbours
Moisture regulation to ensure adequate protection against moisture
Thermal regulation to ensure adequate insulation
If stairs are being installed, then they must meet requirements in-terms of steepness and minimum tread size
Glass and windows can be regulated with safety glass being required in certain situations
If a bathroom is being installed then regulations can be applied to installing water systems and drainage systems
Electrical installations must meet the latest safety standards with the use of an approved electrician
Any heating installations must meet regulations to ensure adequate safety and ventilation
Planning permission and 'permitted development'
Planning permission used to be required on extensive loft conversions from local authorities. However, since a 2008 change in UK planning laws, certain lofts can be converted under what's known as 'permitted development'. This is where developments can legally occur without planning permission as long as they fall under certain conditions. At Bischell, our loft conversion specialists can tell you whether your requested loft conversion falls under these conditions and therefore doesn't require planning permission. However, if it does require planning permission, then Bischell can liaise with your local authority to ensure that everything is handled on your behalf.
DIY loft conversions are possible. However, loft conversions are often quite extensive projects which require considerable planning for safety reasons and to meet building regulations. The use of experienced tradespeople also means that you can enjoy a professional finish with a stunning interior design. Beyond the aesthetics, engineering experts are often required to ensure that the loft conversion is structurally sound with the property and floor being able to handle the expected load. For these reasons and many more, it's highly recommended to hire a building company which offers domestic and commercial loft conversions.
Usually, thick layers of insulation in a loft can assist with keeping the rest of the house warm. However, when a loft is converted into a habitable space, considerations have to be made to the existing property insulation alongside the insulation of the loft space itself to ensure it is warm enough.
Fortunately, building regulations state that the roof must achieve a certain level of heat insulation, meaning that any loft conversion includes full insulation to ensure that your loft is a warm and comfortable living space which requires the same level of heating as the rest of your home.
Usually, there are three main types of loft insulation: rigid insulation, flexible insulation and thermal lining boards. The thicker the insulation is, the more energy efficient your loft conversion will be, but the less head room you may have in your loft. Considerations need to be made to not only the floor insulation, but also the insulation within the roof rafters and the walls of the loft.
Whilst a key benefit of good loft insulation is to keep the temperature warm and stable within your loft, it can also make good monetary sense. Some sources suggest that the cost of good loft insulation can be paid back in less than 7 years through savings on energy bills – making it a sound investment.
The party wall agreement provides rules on what you can do if you need to make any changes to a wall shared with a neighbour. This usually occurs in loft conversions within terraced houses. We can make sure that your project satisfies all party wall rules by serving a notice to your neighbour and mediating any disputes if they arise.
Here is a selection of Bischell's top 10 tips to think about when you're planning ideas for your new loft conversion:
1). Visualise where you intend to place all of your furniture to decide the ideal locations for light switches, electrical sockets and other fittings. You could keep sockets near beds or seats to allow people to charge their phones and tablets whilst in use.
2). Due to the slope of the roof, there will be space in your loft which is too narrow to stand up in near the corners of the room. Instead of leaving this space blank, add in permanent storage areas. These areas can be walled off between the floor and loft ceiling to provide in-built storage which doesn't protrude into the room itself.
3). Consider which rooms will be directly below the rooms in the loft. For example, if you are creating a busy play area for the kids, it may not be wise to include this directly above a bedroom in the floor below!
4). Consider privacy. Check if placing a loft window in a specific place may raise privacy concerns for you for your neighbour.
5). Loft windows allow a lot of light, but the location of them heavily dictates how much sunlight you receive. If you would prefer the loft to be filled with sunlight on a morning, then make sure that the loft windows are placed to achieve that. Similarly, if you would prefer no sun glare, just position the location of the loft windows to prevent this. It's also important to factor in where bed or seating areas may be inside the loft in relation to the windows.
6). Find an open area to measure out the liveable space within your loft and then use it to help visualise the rooms and furniture. Your loft may look large, but after adding a new floor, new ceiling, new side-walls and a stairwell, you may not end up with as much space as you think.
7). Consider the location of the stairwell in relation to the lower floor. Make sure that it doesn't impede access to rooms on the floor below. If the new loft will be used regularly, then it may create a thoroughfare for people walking backwards and forwards, meaning that some existing rooms near the stairwell may encounter minor noise or disruption.
8). Your loft's rafters and structural supports don't have to be covered. Consider keeping them exposed to provide an interesting approach to the interior design.
9). An en-suite can make a fantastic addition to new bedrooms or living spaces within a loft. This also means that you can avoid having to climb down flights of stairs just to use your bathroom amenities. It can be a great convenience for you and your guests!
10). If you would like to factor in the potential increase in property value, then look into creating the type of loft extension homebuyers are likely to find most appealing. For example, if your home is lacking in bedrooms, then a loft conversion with one or two extra bedrooms is likely to add significant value to your property.
Testimonials
They deliver flawless work for sure, but the service delivery model they have here is stand out. There's few companies I work with day-to-day that match it. As they grow it'll be interesting to see whether standards can be maintained...

Just wanted to thank all the team at Bischell for the incredible amount of hard work over the past 4 months. It's been quite a journey but I'm happy to be at the end of it now. Sorry to see...

I hired Bischell for a double storey extension to my property to create two bedrooms and a bathroom. As there is a little'un coming soon! I used them based on a referral.Their price was good, workmanship top quality and they...
Sign up to the newsletter
Join over 1000+ people and get fortnightly design and construction tips and advice.
We guarantee 100% privacy. Your information will not be shared. Unsubscribe at any time with a single click
Based around six key pledges, it's our promise to you to ensure rock-solid reliability and a seamless, hassle-free project