Stunning Basement & Cellar Conversions in London: Claim Back Your Available Space!
Is it time to make use of your home's unused basement or cellar space?
Would an extra room or two free up much-needed space for your family to enjoy. Maybe your kids need a playing area to chill out and watch TV or shoot some snooker?
The possibilities that converting your basement or cellar affords you and your family is literally endless!
Bischell will take your empty space and transform it into a new living area with meticulous attention to detail. That includes plumbing, electrics and heating. Whether you need architectural planning, attention-to-detail construction or an end-to-end design & build, our experienced team of engineers can help.
With beautiful design, fine craftsmanship and maximum functionality throughout, you'll be amazed at what we can do with your underground unused space. Ready to get going? Contacting us is the first step.
Basement conversion specialists
Bischell's construction specialists will ensure that every facet of your basement or cellar conversion is handled by a dedicated expert:
Builders and engineers will work to millimetre-accurate construction guidelines
Plumbers, electricians and gas engineers will conduct installations with the pinnacle of durability and safety
Decorators, painters, installers and fitters will create a stunning interior environment with the finest workmanship – perfect for you and your family
Optional project management ensures a smooth and efficient conversion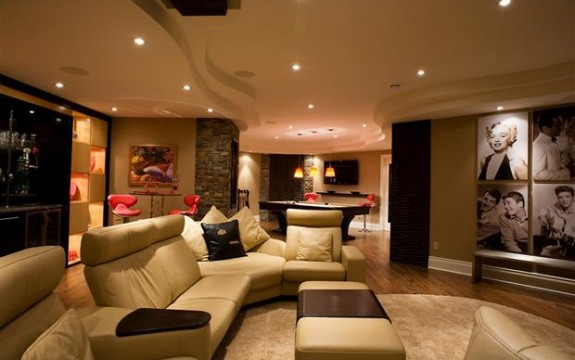 4 guarantees with our Flawless Delivery™ promise:
On-budget – The cost, based on the original brief, is contractually fixed
On-time – Finished on time, but if not, we pay you for every day it goes over
Defect-free – You only sign the project off when everything is perfect
12 month warranty – If there are any problems, we'll fix them for good
Our first-class support will give you peace of mind
We'll communicate regularly to keep you up to date, with a direct line of contact for quick answers to any of your questions. Plus, you'll be able to view project updates, progress and scheduling via your own online client portal.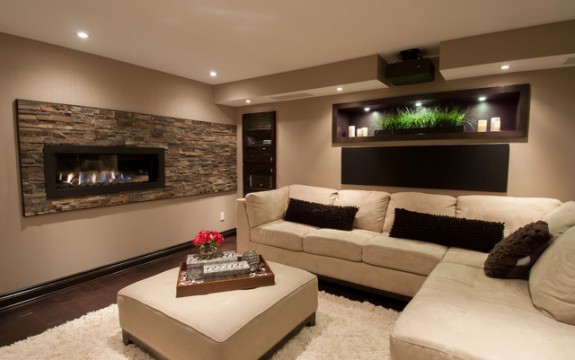 What you can expect from your new basement:
By the time we're done, we want to leave you with a conversion that brings your plans to life with perfection.
Each fixture, fitting, cable, floorboard and lick of paint – no matter how large or small – will be added with the care of an experienced Bischell craftsman, to ensure an immaculate finish which leaves you nothing less than seriously impressed.
It's all part of our commitment to taking your plans and giving you a conversion that exceeds your expectations.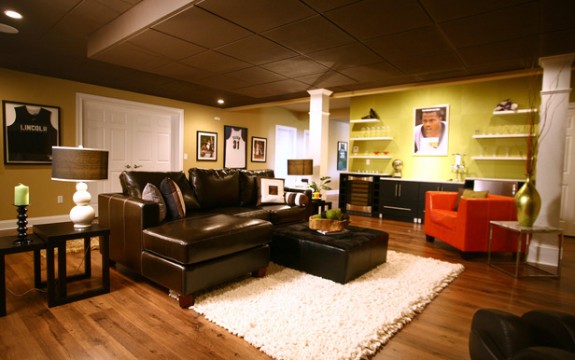 See how amazing your basement could be
A basement or cellar conversion can transform your property with a considerable amount of new space, designed with new rooms of your choice. Ideal for expanding families or lifestyle needs.
Simply tell us your ideas and we'll create the designs to make your dream basement a reality.
Our architects and interior designers will listen carefully to your needs regarding sizes, shapes, layouts, fixtures and themes and then combine them with the principles of beautiful design to give you a luxurious new environment to enjoy.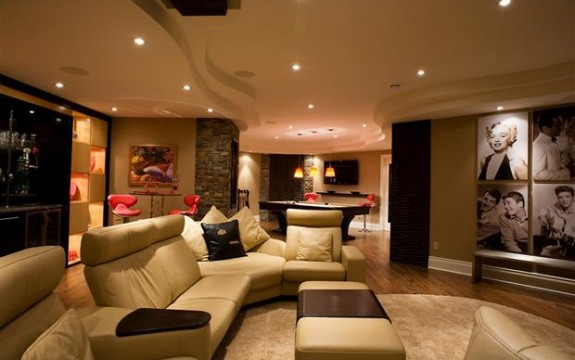 4 guarantees with our Flawless Delivery™ promise
On-budget – The budget is fixed, and it will never change depending on your brief
On-time – Finished right on time, but if not, we pay you for every day it goes over
Defect-free – You only sign the project off when everything is perfect
12 month warranty – If there are any problems, we'll fix them for good
Leave planning permission and any other formalities to us
We can contact any authorities and relevant parties on your behalf to obtain planning permission and party wall agreements. 'Permitted development' may even mean that you don't require formal planning permission for your new basement conversion.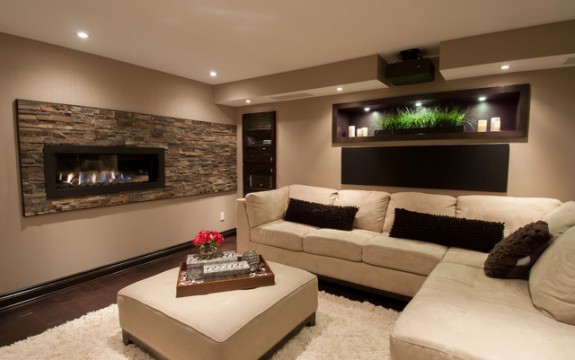 What you can expect from your basement conversion design:
Whilst many basements appear dark and confined, the use of innovative design, mood lighting and ambience can actually make your basement just as bright, fresh, airy and spacious as any other room in your home.
With many basements spanning the full area of your property, you'll be able to enjoy one or more new rooms which are designed to your exact tastes.
Modern bedrooms, bathrooms, kitchens, living spaces, gyms, entertainment areas and even pools can transform your basement and truly enhance your home lifestyle.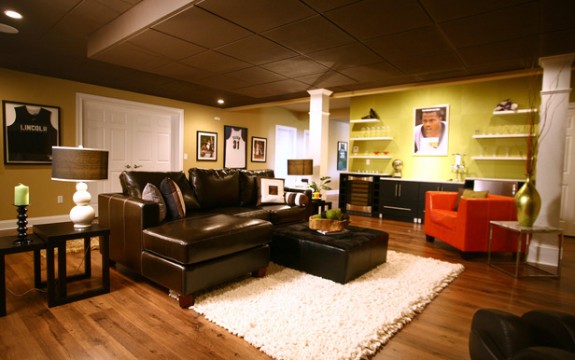 The result?
A beautiful basement or cellar conversion which ticks every box, affording you and your family the space it needs
Contact us or call 0208 964 1814 for a free, no-obligation consultation – we'll show you what we can do for your London basement conversion.
Call or email us today
If you have a project you'd like to discuss, please get in touch. There's no obligation. Just give us a call or if you'd rather email, simply complete the form.
020 8964 1814
Why Bischell?
An optional industry-leading lifetime guarantee
We'll give you a fixed price which won't budge
A guaranteed completion date or we pay you
We won't stop until your project is 100% defect free
360° Support® for peace of mind every step of the way
A basement conversion involves turning your basement or cellar into a habitable living area. It is akin to a loft conversion in the sense that you can take previously unusable space within your property to increase the overall size without changing the structure or layout of the building.
More space within the home
A basement conversion can create an entire new floor of living space which spans the whole area of your property. This usually provides a pretty big increase in space! As a result, basement conversions are a fantastic way to accommodate a growing family or the need for more space in general. A basement conversion could even be combined with a loft extension to turn both areas of unused space into habitable rooms.
Alternative rooms
Usually, if you want to create a whole new room in your home, you would have to convert an existing room, which is likely to be a bedroom. However, with a basement conversion, you can explore new rooms for a range of different uses to really tailor your home to your needs. For example, you could create an entertainment room or home gym. The solid foundations of a basement also mean that some features are possible which would be unsuitable for a loft. For example, creating a pool.
Avoid the need to move
A basement conversion could be a fantastic solution to creating that extra much-needed space without the cost and stress of moving to a different property. This not only minimises hassle, but also provides a solution to providing that extra space which doesn't cost as much as a full-scale move.
Adding property value
Just like a loft conversion, a basement conversion could add thousands of pounds to the value of your home, thereby recouping part or all of the cost of the conversion project when you eventually sell your property. This can make a basement conversion a very worthwhile investment.
Your property would probably need to be assessed for feasibility to make sure that the basement is in sound structural condition and capable of being converted based on your plans.
However, even if you don't appear to have a basement, you may actually have one which is simply covered up with no access. This is more common with older properties. An assessment could uncover a suitable basement which could be accessed by knocking through a portion of your property's floor to create a stairwell. Bischell are experts in room conversions, and as local, experienced builders and designers of basement spaces across London, we're the perfect people to tell you exactly what's possible with your unused floor space.
Basement conversions generally require professional services. This is not only to ensure top quality workmanship, but also to ensure that your newly converted basement is structurally sound and safe for use. Hiring a professional design and build team also takes a lot of stress out of the conversion and ensures that your ideas can be fully expanded on and explored to their full potential by dedicated designers with basement conversion experience.
There are a number of ways you could use your brand new basement conversion. These ideas may involve using the basement as a single room, or using partition walls to create multiple rooms. As most basements are the full size of your property area, you're likely to have a lot of space to play with.
Extra bedrooms
Bedrooms with en-suite
New kitchen
New bathrooms
Living area
Separate living space (for a lodger, for example)
Gym
Pool
Sauna
Entertainment room
Play room
Bar area
And more
Most types of basement conversion may fall under 'permitted development', which means that they can go ahead without the need for planning permission from your local council authority. However, if the conversion involves major structural work, or alters the external appearance of the home, you may require planning permission. Most design and build companies, including Bischell, can assess these requirements and handle any paperwork for you. If you have a listed building, you are also likely to require consent for the work from a relevant party.
Basement conversions are governed by building regulations to ensure that the finished result is safe with an adequate level of quality. Some of the areas included in the regulations include fire resistance, fire escape routes, ventilation requirements and minimum ceiling height requirements. Most design and build companies, including Bischell, can ensure that all relevant building regulations are met.
If you share a party wall with a neighbour which is involved in the project work, you may have to follow the guidelines set out by the Party Wall Act. This involves correctly notifying your neighbour and dealing with any disputes if they arise. Most design and build companies, including Bischell, can handle this process for you if required.
Usually, most basement conversions follow a similar set of steps:
1). Planning
Your design and build company will sit down with you to listen to your ideas and expand on them through brainstorming and producing concept drawings. This is then formulated into a plan with a quote provided for the work. A feasibility study is also likely to be conducted to check that your basement is suitable, or even to check whether a hidden basement does exist.
2). Preparation
All equipment and materials are moved into place, with any relevant paperwork (i.e. planning permission) being taken care of. The build team is also briefed on tasks and scheduling. If you choose Bischell, you will have a dedicated project manager to handle this for you.
3). The conversion commences
Any primary structure or building work is handled first, followed by work on the walls, ceilings and floors. Any partitioning walls are added if necessary, and then fitters and tradespeople move in to install the electrics (lights, sockets etc) and heating systems. After that, decoration commences and any finishing touches are made based on the initial plans.
4). Sign-off
Once you're happy with the final result, you can sign the project off and start enjoying your brand new basement conversion!
Testimonials
As designers they are good, very good. But whilst they are talented in aesthetics, they have what so many of their ilk lack. They are thinkers. They are problem solvers. They can take complexity and deliver elegant yet simple solutions....

They have a solid track record on projects we've worked on. Their dedication to a project is second to none. A real flagship example of how it should be done....

I hired Bischell for a double storey extension to my property to create two bedrooms and a bathroom. As there is a little'un coming soon! I used them based on a referral.Their price was good, workmanship top quality and they...
Sign up to the newsletter
Join over 1000+ people and get fortnightly design and construction tips and advice.
We guarantee 100% privacy. Your information will not be shared. Unsubscribe at any time with a single click
Based around six key pledges, it's our promise to you to ensure rock-solid reliability and a seamless, hassle-free project