Dedicated Project Managers for your London Design and Build, Construction or Refurbishment
What does having a project manager really mean to you?
Every Bischell project, no matter how large or small, comes with its own project manager to oversee everything from start to finish. You can relax whilst staying in control as your dedicated project manager makes sure that your dream result is delivered as expected.
It's a difference you can really notice
With smaller design & build companies, the business owner may oversee the project. However, they are likely to be overseeing many other projects at the same time alongside juggling the management of their business. This can mean limited attention, a limited understanding of your project, infrequent site visits and a lack of communication with you.
With Bischell, your project gets an appointed project manager as standard – this means:
Listening to you carefully to understand exactly what you're looking for
On-site visits every day to ensure optimum scheduling and organisation
Regular communication to keep you up to date and address any questions
Using experience to suggest new and innovative ways to improve the final result
Improved leadership and morale for optimum productivity
Scrupulous quality control to ensure exceptional workmanship
Putting you in control and implementing all your feedback and instructions on your behalf
Remedying any issues based on vast experience of all procedures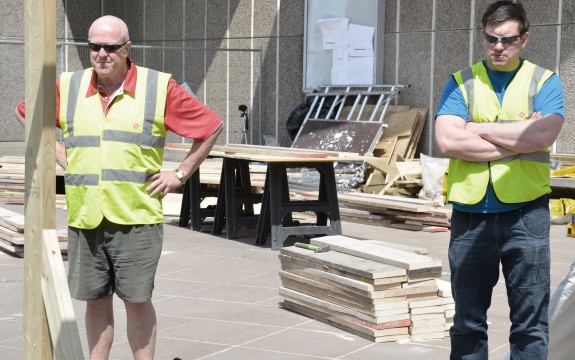 Rely on your project manager to strive for those vital project goals:
Your Bischell project manager will work to make sure that your project is completed on-time and on-budget with an exceptional finish.
However, they will also go one step further to make sure that your build project provides your dream result. It's about leaving you seriously impressed with the final build with every detail exactly how you want it. That's our main goal.
Putting you in more control than ever before
A Bischell build project manager is there to work for you and put you in control. You can deliver your feedback and then leave it to your project manager to direct the design and build teams accordingly.
Benefit from a project manager with design & build experience
Your Bischell project manager will understand the needs of your design team, the needs of your build team and your own needs as well. Everything is meticulously controlled and tightly choreographed to ensure a seamless build project which ticks every box.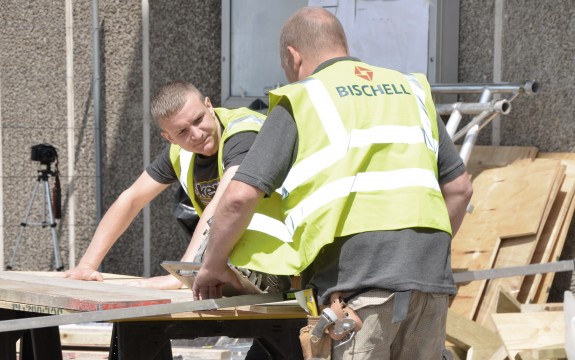 The result of using Bischell project management:
You'll get a stress free experience and stay in control at all times, with your instructions seamlessly implemented on your behalf. Your project manager will leave no stone unturned when it comes to finding out exactly what you're looking for.
You're also kept up to date with regular updates and reports. The build is organised for maximum efficiency and productivity, and meticulously designed to meet all budgets, deadlines and expectations. Quality is scrutinised from beginning to end.
Then there's the final result: your project manager won't stop until you're delighted with a finished project which brings your ideas to life and is crafted with an immaculate finish.
Want to bring in a Bischell project manager for an existing build project?
If you like the sound of Bischell's methodology but you're using different design and build companies, you could hire a Bischell project manager to oversee your project.
Want to bring in a Bischell project manager for an existing build project?
Project managers are included as standard on all Bischell residential and commercial projects
Contact us now or call 020 8964 1814 for a free, no-obligation consultation and quote where we can show you exactly what a Bischell project manager could do for your project.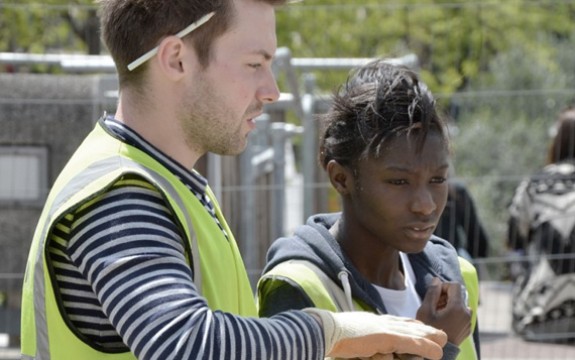 Call or email us today
If you have a project you'd like to discuss, please get in touch. There's no obligation. Just give us a call or if you'd rather email, simply complete the form.
020 8964 1814
Why Bischell?
An optional industry-leading lifetime guarantee
We'll give you a fixed price which won't budge
A guaranteed completion date or we pay you
We won't stop until your project is 100% defect free
360° Support® for peace of mind every step of the way
Project management involves managing a build project through architectural planning, organising, scheduling and decision-making. Whilst larger build projects may have a management team, most projects have a dedicated project manager to focus solely on making sure that the project operates smoothly and efficiently whilst delegating tasks to individual team members.
A key part of project management is the focus on meeting the project's primary objectives and goals. For example, there may be budgetary constraints, quality expectations or deadlines where it's the project manager's responsibility to ensure that these are met by the workforce.
There are a number of powerful benefits involved in specialist project management for build projects of all shapes and sizes:
Allowing specialists to focus on their own tasks
A builder will have various on-site building tasks to do, but if the builder also has any form of management to carry out, then their time will need to be split between these two tasks. Not only does this take time away from an individual's primary task, but it also acts as a distraction which can reduce efficiency and increase the possibility of errors.
With a dedicated project manager, every member of the design and build team can focus entirely on their own objectives; safe in the knowledge that there's a project manager to oversee the entire process and direct them where necessary. This improves efficiency, improves concentration and reduces the risk of stress-related mistakes.
Improved communication with the client
If you are the client of a design & build project, then your project manager will act as your first port-of-call for all enquiries and concerns. As the project manager has a detailed understanding of every aspect of the project, they can assist you with anything you need and have the control to implement your feedback to relevant team members
Improved team efficiency is also a great benefit. A project manager can take time to talk you through your project and keep you up to date every step of the way. This allows the build team to focus on their tasks without directing any time towards customer relations.
Improved motivation and morale
A knowledgeable and experienced project manager not only knows how to manage a project, but also manage their team. Just as permanent managers in businesses are there to get the most out of their staff, project managers also have the responsibility of motivating their team and keeping their morale high. The right sort of motivation can have a very positive impact on productivity, meaning that projects can be finished faster with lower personnel costs.
Better flexibility
A good project manager has their finger on the pulse of the project, with full control over every stage. This makes it far easier to adapt to any changing needs or issues which may arise. It's common for clients to change their minds on minor aspects of the project as time goes on, so if this occurs, the project manager can enact these changes, adapt the schedule, adapt the budget and then pass down the required information to the relevant team members.
It puts you in far more control, as you can simply tell your project manager what you would like to happen and then they can handle the rest.
Higher quality
Whilst any good design & build team will always take pride in their work, it helps to provide that extra level of scrutiny from a project manager whilst a project is taking place. This keeps team members "on their toes" and helps to rectify any problems as they occur instead of only noticing them when the project is complete.
Project management also puts more responsibility on individual people to produce quality results. As a client, if you notice an issue with the quality of the workmanship, you're likely to blame the company as a whole. However, a project manager can trace any issues back to individual team members and reprimand them. This gives people within the team more accountability to provide the highest quality work.
More efficiency
A project manager's main job is to plan, schedule and control a project. As this is one of their primary responsibilities, it allows far more concentration and time to be spent on organising the project than any other team member would be able to afford. With a strong overview of the entire project and all of the tasks involved, a project manager can organise the most efficient schedule and ensure that certain tasks are completed in an optimum order.
Another key area of this involves stock and materials. A project manager can ensure that anything required for a particular task is there and available exactly when the relevant team members require it. This minimises the risk of any delays.
A better chance of hitting your project goals
There are 4 main goals in most design & build projects:
The project must be completed on-time
The project must be completed on-budget
The project must be completed to a certain standard of quality
The project must match the client's brief and expectations
A project manager can focus on these 4 points to ensure that they are met.
Schedules can be created to keep the project on-time, budgets can be created to ensure that cost goals are met, quality control can take place to keep workmanship levels high, and the project manager can direct the project based on the agreed plans and designs to ensure that the finished result is exactly what you expected.
Improved problem-solving
There is always some risk of problems occurring. A project manager's job is to not only minimise the chance of these incidents happening, but also deal with issues in the optimum manner so they can be contained and resolved with no impact on the final result. Good project managers are experienced and confident with a strong understanding of both design and build, so if a problem does arise, they can analyse the issue, find the best solution and then make the final decision.
A project manager's tasks can vary wildly depending on the type of project and the complexity. However, some of the most common tasks in design and build projects include:
Taking the agreed plans / designs and setting a course of action to achieve them
Creating a schedule
Creating a detailed budget
Compiling and mobilising a team
Delegating tasks to the team
Giving team members individual deadlines and goals
Arranging equipment
Ordering materials and other items
Ensuring that materials and equipment are delivered at the right time in the schedule
Inspecting the quality of workmanship
Ensuring that the project's vision stays on course throughout
Liaising with the design and build teams to pass through any feedback or questions
Communicating with the client and keeping them informed of progress
Implementing any client feedback or complaints
Liaising with neighbours
Dealing with planning permission, party wall agreements and other paperwork
Motivating the team and providing leadership
Problem solving and decision-making
Organising post-project duties such as cleaning and debris removal
Professional project management actually consists of a number of different methodologies which are used throughout many industries. These strategies are designed to assist with organisation, scheduling, planning and the four main project goals: meeting deadlines, meeting budgets, meeting quality and meeting the client's brief.
Employing commonly used management methodologies also means that multiple companies can understand universal frameworks and adapt to them. This is important when many different businesses may be working on a single project.
Some of the most common project management methodologies include:
The traditional approach (initiation, planning, execution, monitoring, completion)
PRINCE2
Process-based management
Agile project management
Benefits realisation management
Lean project management
Event chain methodology
Critical chain project management
Within these approaches, there are hundreds of individual tools which project managers can use to assist with organisation and planning. Normally, design and build projects don't have one single methodology of use, so it's beneficial to have an experienced and qualified project management who can call upon multiple different strategies and approaches where necessary. Bischell are London builders with extensive experience in project management at both domestic and commercial level.
As you can see from the information above, project management is a skill within itself! Whilst it's possible for homeowners and business owners to manage smaller projects, it can be extremely beneficial to hire a professional project manager to oversee most design and build projects. This shouldn't be considered an additional cost, but an investment, as part of the cost of a project manager can be made back through improved efficiency, improved productivity, improved workmanship and less stress for you as the client.
Plus, whilst it might sound counter-productive, hiring a project manager can actually put you in far more control of the project. You can pass on your comments, feedback and amendments and then leave it to your project manager to handle implementing them. You can lead the main direction of the project and leave it to your project manager to 'micro-manage' all of the required changes and tasks.
Another key benefit is that you can draw upon a project manager's knowledge. Without extensive experience in areas of project design, project build and project management itself, it can be very difficult to keep everything organised and solve any issues if they arise. Project management has a steep learning curve, and if you decided to manage your own project, then you might have to learn the ropes whilst managing your own brand new loft conversion, house extension or kitchen installation!
With an experienced and knowledgeable build project manager, you can relax safe in the knowledge that there is someone to oversee the entire project and keep everything in check. It puts you in control, keeps you better-informed of progress and allows you to look forward to the finished result!
Whether you do it yourself or hire an expert, here are 5 key elements which make up good project management:
1). Communication, communication, communication!
A lot of problems during a design and build project arise due to poor communication between various parties involved. A good project manager will ensure that everyone involved communicates with each other and feels free to express thoughts and opinions which may benefit the project as a whole.
2). Authority and leadership
The best project manager will have knowledge and experience which commands respect. Individual team members will better take directions as they feel like they can trust their project manager – even on occasions where they may not agree.
3). Accountability and responsibility without pressure
A good project manager will make individual team members responsible for their actions, but protect them against something which isn't their fault. Team members should feel the pressure of performing well, but they shouldn't be burdened with stress which negatively impacts their work.
4). Detail in planning
Planning and organisation are both vital for a hassle-free build project which meets the deadline, budget, quality expectation and client brief. Good project managers will be meticulous in detail. They won't allow schedules and plans to be a hindrance, but they'll use them to be of benefit to a project by making it more streamlined and organised. They'll also pay attention to even the smallest details, as these can often be the most important for an exceptional quality result.
5). Manage expectations
This doesn't just involve managing the client's expectations, but also the expectations of everyone involved in the project. For a project manager to succeed in this area, experience is key, as they can judge the duration or outcome of a task with more accuracy. For example, if an electrician is wiring new lights and sockets in a room, an experienced project manager will have a better understanding of how long this will take and can therefore adapt the expectations of other specialists in the project who may not be able to start work until the electrician's task is complete.
Another key aspect of this involves delivering reasonable expectations without over-promising. For example, an inexperienced project manager may deliver a timescale or budget in an attempt to please the client which actually turns out to be completely unrealistic. A realistic expectation which is met is satisfying for all parties, whilst an over-promise which has been missed is disappointing and can cause other issues in the scheduling of the project.
Testimonials
Just wanted to leave a quick message to say how impressed I am with your company. The work completed was an extension & refurbishment undertaken to a high finish and delivered to the tight deadline I needed. Great eye for...

Just wanted to thank all the team at Bischell for the incredible amount of hard work over the past 4 months. It's been quite a journey but I'm happy to be at the end of it now. Sorry to see...

As designers they are good, very good. But whilst they are talented in aesthetics, they have what so many of their ilk lack. They are thinkers. They are problem solvers. They can take complexity and deliver elegant yet simple solutions....

I hired Bischell for a double storey extension to my property to create two bedrooms and a bathroom. As there is a little'un coming soon! I used them based on a referral.Their price was good, workmanship top quality and they...
Sign up to the newsletter
Join over 1000+ people and get fortnightly design and construction tips and advice.
We guarantee 100% privacy. Your information will not be shared. Unsubscribe at any time with a single click
Based around six key pledges, it's our promise to you to ensure rock-solid reliability and a seamless, hassle-free project