Office Refurbishment Services in London: creating the perfect environment for business success
It's our mission to give you a beautifully refurbished new office, with design and functionality perfectly suited to your business. need architectural insight, commercial construction or complete design and build, we'll work closely with you to create the best possible working environment for you and your staff and customers.
Office refurbishment specialists
With Bischell, your office refurbishment will receive the full attention of our in-house team with meticulous attention to detail from start to finish:
Bischell builders and engineers to bring your plans to life with millimetre accuracy
Electricians, plumbers and gas engineers for the pinnacle of safety and durability
Bischell decorators, painters and fitters to create a stunning environment with fine craftsmanship
Optional project management ensures a fast, efficient and hassle-free build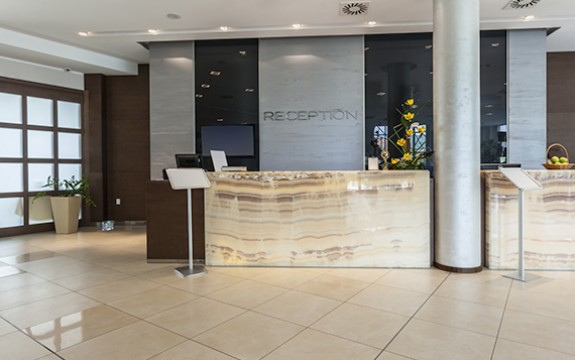 4 guarantees with our Flawless Delivery™ promise:
On-budget – The cost, based on the original brief, is contractually fixed
On-time – Finished on time, but if not, we pay you for every day it goes over
Defect-free – You only sign the project off when everything is perfect
12 month warranty – If there are any problems, we'll fix them for good
Along with first-class client support
We'll communicate regularly to keep you up to date, with a direct line of contact for quick answers to any of your questions. Plus, you'll be able to view project updates, progress and scheduling via your own online client portal.
What you can expect from your newly refurbished office:
Our main focus at Bischell is to make sure that your new office design achieves its full potential. Everything, from the fixtures to the paint, will be spruced up to a pristine finish which gives your team an inspiring environment to work in.
It will not only be crafted to look impressive, but to also provide steadfast durability which handles the daily rigours of a busy office space.
Plus, with our comprehensive infrastructure, you'll receive an office refurbishment which is fast, efficient and tailored around your business operations.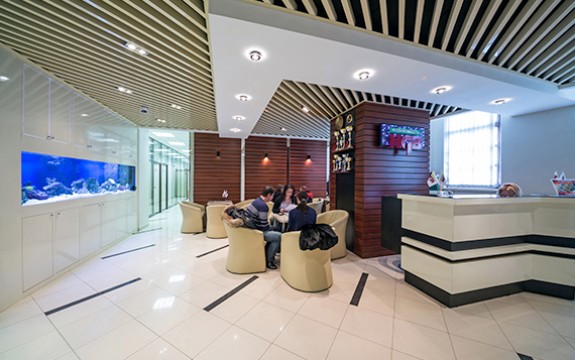 An office designed to inspire your team
With office architecture and design from Bischell, your staff will have a working environment which is modern, fresh, spacious and primed for productivity.
We'll hang on your every word to include everything you're looking for, and combine beautiful design with practical functionality which is suited to the way your business works.
With Bischell architects, designers and value engineers, you'll receive a cost-effective office design which impresses clients, inspires staff and gives your business the perfect environment to grow.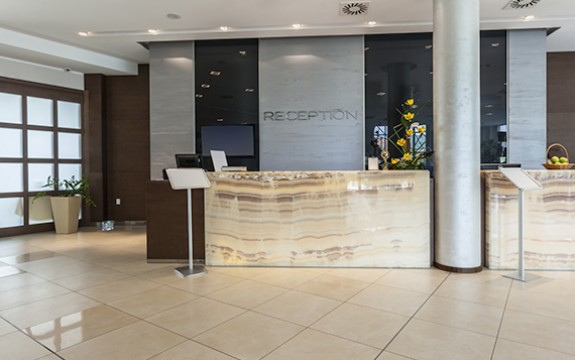 4 guarantees with our Flawless Delivery™ promise
On-budget – The final cost is fixed, and it will never change if the brief stays the same
On-time – Finished right on time, but if not, we pay you for every day it goes over
Defect-free – You only sign the project off when everything is perfect
12 month warranty – We'll fix any issues for good, with an optional lifetime warranty available
We'll take care of planning permission and building regulations for you too.
If there are any building regulations, planning permissions or party wall agreements to be made, we can handle them all for you and liaise with the relevant parties on your behalf.
What you can expect from your office refurbishment design:
At Bischell, it isn't just about designing an office which is a pleasure to look at. It also needs to be the optimum working environment for you and your staff. It will be perfectly suited to your business culture to create a workplace which looks superb, improves morale, increases productivity and leaves your visitors seriously impressed.
We look beyond just the aesthetics to design an office refurbishment which aids business growth and prosperity. This means optimal spaces for collaboration and comfortable working areas which encourage creativity and focus.
With Bischell, it's about designing a beautiful, cost-effective office interior which provides a hub for business success.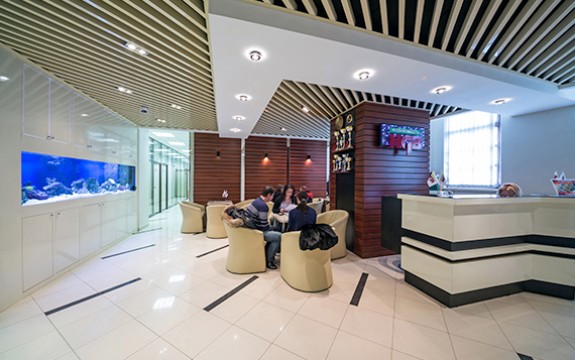 The result?
An impressive looking office which ticks every box.
Click here or call 020 8964 1814 for a free, no-obligation consultation where we'll show you what we can do for your office refurbishment in London.
Call or email us today
If you have a project you'd like to discuss, please get in touch. There's no obligation. Just give us a call or if you'd rather email, simply complete the form.
020 8964 1814
Why Bischell?
An optional industry-leading lifetime guarantee
We'll give you a fixed price which won't budge
A guaranteed completion date or we pay you
We won't stop until your project is 100% defect free
360° Support® for peace of mind every step of the way
An office refurbishment is a renovation of a commercial office space. This can involve interior design changes, exterior design changes, furniture changes and alterations to the layout and structure of the building. An office refurbishment may involve renovating an existing furnished office space for a fresh look, or it may involve putting your stamp on an empty office which you may have just moved in to.
For even the most complex of property requirements, we guarantee that Bischell building contractors can offer every service you need to transform or create your dream workspace.
There are a number of key benefits of a professional office refurbishment:
Impress your clients or potential clients
A professional office environment with stunning design and workmanship can seriously impress your visitors and show them that you operate a business which is highly professional, credible and successful, so they feel more comfortable working with you.
Provide a more enjoyable work space to improve morale
You and your staff can enjoy a more pleasurable office environment which is bright, fresh, modern and professional. Instead of walking into a drab, dreary or dated office, they can wake up in the morning and look forward to spending time in an enjoyable office environment which helps to get their creative juices flowing.
Improve efficiency
Your office and its layout can be re-designed to improve working efficiency. This may involve re-positioning teams closer together who correspond more frequently. It may also involve minimising distractions within the office environment. The introduction of improved furniture and equipment can also provide more comfort and speed in day-to-day office tasks.
Improve productivity
A combination of improved morale and efficiency can increase overall office productivity. This means that more work can be done in less time and with less resources, allowing a professional office refurbishment to provide a long-term return on investment.
Promote your brand
Your business brand can be worked into the overall design of your new office to create a theme which showcases your business to your staff and visitors. Not only does this look more professional to potential customers or clients, but it also helps to nurture staff unity by adding a mark of identity to their working environment.
An office refurbishment can be compromised of many individual features. This allows you to control both the scale and extent of the refurbishment, whether you want to freshen up an existing environment or completely re-vamp it with a new design. Some common areas worked on include:
New ceilings
New floors
Adding/removing walls
Decorating walls
Installing new bathrooms or kitchens
Changing the layout of work spaces
Changing the layout of sockets and network ports
Adding new colour schemes
Adding new graphic schemes
New furniture
New office equipment
New windows/window graphics
Exterior signage
New lighting
New fixtures and fittings
An office refurbishment is usually split into these 5 steps:
1. Briefing – Learning about what you want in your new office
2. Planning – Coming up with concept designs and expanding ideas into a plan of action
3. Preparation – Briefing construction teams and moving in equipment
4. Working – The build team takes the final designs and turns them into reality
5. Sign off – Once you're happy, sign off the project and enjoy your new office space!
Usually, there are four main areas of regulation to be aware of during an office refurbishment:
Building regulations – These regulations ensure adequate safety and quality in many aspects of the refurbishment, including structural work, fire escape routes and disabled access. Most design and build companies, including Bischell, can ensure that your new office space complies with all relevant building regulations.
Planning permission and permitted development – Most construction work without major structural changes can be carried out under permitted development, which means that no planning permission is required. Bischell and other design and build companies can check if your plans fall under permitted development, and if not, they can handle all of the relevant paperwork by liaising with your local authority.
Party wall agreement – If your office refurbishment involves work on a wall which you share with a neighbour, then you may have to follow the protocol laid out in the Party Wall Act. If you choose Bischell, we can handle this process for you.
Lease agreements – If you don't own your property and are simply leasing it, then you may be limited to what you can do by the formal owner of the property. It is usually recommended that you check with the property owner to ensure that they will permit any construction work you would like to do.
1). Consider the layout in relation to productivity and suitability. Placing individual department staff closer together may improve communication. Some areas of work may also require a degree of privacy which would influence the positioning of staff work spaces.
2). Consider disruptions. If you have a lot of loud traffic outside your office, it may be worth moving staff who regularly use telephones away from windows and the general area of sound pollution. Similarly, placing staff who use telephones too close to staff who don't use telephones may cause distractions
3). Consider potential downtime and working around the refurbishment. Shutting down services can disrupt cash flow, but it may be possible to conduct refurbishment work in one area at a time or outside of normal office hours, thereby allowing the design and build company to work around your staff and business operations.
4). How will your office be used? If you have no visitors, then you can focus more resources on the internal staff environment. However, if you do have regular visitors, then it may be worth focusing more of your resources towards the entrance and reception area to make a good first impression.
5). Use your business brand. Your business brand can be a fantastic starting point for expanding on the design of your new office space. You could look to your website or literature to provide inspiration on the colours, styles and shapes you could incorporate into your refurbishment. Not only can this make it easier to formulate ideas, but it can also result in a more professional looking office with a clear-cut theme. This helps to make sure that any visitors can walk in and instantly get a feel of what your business is and the image you want to put across to potential customers or clients.
Testimonials
They have a solid track record on projects we've worked on. Their dedication to a project is second to none. A real flagship example of how it should be done....

I hired Bischell for a double storey extension to my property to create two bedrooms and a bathroom. As there is a little'un coming soon! I used them based on a referral.Their price was good, workmanship top quality and they...

A company truly worth all the positive superlatives. If you need a complete makeover, these are the people that will deliver way beyond what you expect. I have mixed emotions about recommending you. On one side I know you guys...
Sign up to the newsletter
Join over 1000+ people and get fortnightly design and construction tips and advice.
We guarantee 100% privacy. Your information will not be shared. Unsubscribe at any time with a single click
Based around six key pledges, it's our promise to you to ensure rock-solid reliability and a seamless, hassle-free project